Are you looking for an easier way to manage and monitor your PPC campaigns? A PPC dashboard can help make the process easier. In this blog post, we'll talk about what a PPC dashboard is and how it can help you get the most out of your campaigns. Read on to learn more!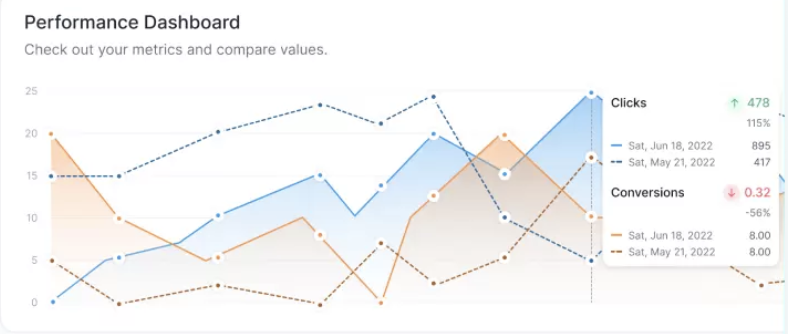 What is a PPC Dashboard?
A PPC dashboard is a document that marketing agencies use to present their PPC campaigns in real-time. It allows PPC report clients to learn about the effectiveness of their campaigns and make strategic decisions. A PPC dashboard displays all of the key parts of a PPC campaign in one place and provides quick insights into how well your paid search strategies are performing. It records and displays data from multiple ad platforms including impressions, clicks, conversions, cost-per-click, and more. With this information, marketers can fine tune their campaigns to get the most out of their ad spend.
Is a PPC dashboard easy to set up and use?
Setting up a PPC dashboard can be easy or complex depending on the tools and software you use. If you are using a PPC management platform such as Google Ads or Microsoft Advertising, you will likely have access to built-in dashboards that are easy to set up and use. These dashboards will pull data directly from your campaigns and display it in an easy-to-understand format.
In addition, many third-party tools and software platforms offer pre-built PPC dashboards that can be customized to your specific needs. These dashboards typically require some setup and configuration to connect to your ad accounts and pull data, but they can be a powerful tool for tracking and optimizing your Google Ads campaigns.
However, if you are using a custom dashboard or building your own, it may require some technical expertise to set up and configure properly. You will need to connect to the various data sources, such as your ad accounts, analytics tools, and conversion tracking tools, and set up data connections and integrations.
Once your dashboard is set up, its usability will depend on the design and functionality of the dashboard. A well-designed dashboard should be easy to navigate, with clear visualizations and data that is easy to understand. Some dashboards may also offer advanced features such as drill-down capabilities, automated alerts, and real-time data updates.
Overall, the ease of setting up and using a PPC dashboard will depend on the tools and software you use and your technical expertise. However, with the right tools and setup, a PPC dashboard can be a powerful tool for monitoring and optimizing your PPC campaigns.
Step-by-Step: How to Build a PPC Dashboard
Creating a PPC dashboard is the first step in gaining insights into the effectiveness of your marketing strategy. With the right tools, it's possible to build a comprehensive dashboard that includes all of the metrics and data sources you need to accurately measure your performance. To begin, define your objectives and choose the right tools for tracking. From there, decide what metrics to monitor and how often to measure them. Once you've determined which metrics you need to track, create reports and dashboards in Google Analytics or use one of our free PPC report templates. You can also use data blending capabilities to include insights from multiple sources in your dashboard. Finally, customize and automate your PPC dashboard to ensure that you're always monitoring the most up-to-date metrics. Through this process, marketers can gain valuable Google Ads insights into their campaigns and make more informed decisions about their PPC strategy.
PPC Metrics to Track Performance
Analyzing the performance of your PPC campaigns is essential for success. To do this, you need to track the right metrics. There are numerous metrics available to measure the performance of your PPC campaigns, such as search impression share, click-through rate (CTR), conversion rate, quality score, and cost per click (CPC). All these metrics provide important insights into how well your campaigns are doing and can help you make informed decisions about where to focus your efforts. When setting up a PPC dashboard, make sure to include all relevant metrics so that you can accurately measure and monitor the progress of your campaigns over time. Additionally, consider using cross-channel reporting and data blending tools to get a holistic view of your campaigns and maximize their effectiveness.
Cross-Channel Reporting & Data Blending
Cross-Channel Reporting and Data Blending are key elements of any effective digital marketing strategy. By combining data from multiple channels, marketers can create comprehensive campaigns that reach their target audience across multiple platforms. With a PPC dashboard, marketers can easily aggregate data from multiple sources and present it in a single view. Data blending allows marketers to join different types of data such as Google Ads, Facebook Ads, and Search Console in order to understand how different channels interact with each other. This helps them to identify insights about their customers' behavior and optimize their campaigns for better results. With Cross-Channel Reporting and Data Blending, marketers can make more informed decisions about their campaigns and maximize the ROI of their efforts.
Creating Reports & PPC Report Dashboards From Templates
Creating reports and dashboards from templates is an effective way to save time and effort when building out a PPC dashboard. Templates are available for Google Sheets, Google Data Studio, and other platforms. These templates offer pre-built structures that allow digital marketers to quickly and easily get up-and-running with their PPC campaigns. By using these templates, digital marketers can easily track their performance metrics, visualize paid campaigns across multiple channels, and cut the time it takes to create customized reports. Additionally, they can utilize Octoboard templates to send automated reports to clients and build online marketing performance dashboards. Utilizing these templates can help digital marketers save time while still ensuring accuracy in their reporting.
PPC Dashboard Template
PPC Dashboard Templates are an invaluable asset for digital marketing agencies and freelancers. These pre-made templates contain key paid advertising metrics such as impressions, clicks, and conversions, allowing users to quickly and easily create dashboards for their clients. The templates also come with built-in data from popular PPC ad platforms such as Google Ads. This means users can collect cross-channel data and blend it into a single dashboard for visualization and reporting. Furthermore, users can customize the dashboards to suit their clients' needs, track performance metrics in real-time, and easily build reports and dashboards from the templates. With access to up to 5000 sources, PPC Dashboard Templates enable users to gain insight into their campaigns and make informed decisions about their PPC strategies.
Live PPC Client Dashboard
The Live PPC Client Dashboard is an invaluable tool for any digital marketing agency or account manager. It automatically updates all of the client's real-time metrics, consolidates all their PPC campaign results in one place and allows for cross-channel reporting and data blending. It also makes it easy to create reports and dashboards from templates, and provides 40 free PPC dashboard templates to get started. With the Live PPC Client Dashboard, agencies can track performance metrics like impressions, clicks, click-through-ratio (CTR) and campaign ad group performance. Additionally, White Label options are available for even more seamless reporting. These features help agencies save time and provide their clients with comprehensive reporting that can be used to optimize their campaigns.
The Benefits of Using a PPC Dashboard
Using a PPC Dashboard provides many advantages for a marketing agency or brand looking to track their ad campaigns. With a PPC Dashboard, the user can quickly identify trends and pinpoint any underperforming campaigns while being able to customize the dashboard to fit their individual needs. A PPC report dashboard also improves productivity by eliminating the need to go to different ad platforms or calculate conversion rates and ROAS manually. Furthermore, a PPC Dashboard provides visibility into all crucial inner workings of an account in one place, making it easier to present performance data to clients in real-time. By automating Google Shopping insights with Data Studio, marketing agencies can save time while ensuring that they are staying on top of their paid ad campaigns.
Best Practices for Utilizing a PPC Dashboard
When it comes to utilizing a PPC dashboard, there are several best practices that marketing agencies should follow. Firstly, it is important to establish Analytics goals for each campaign and make sure that you are tracking the correct metrics in order to measure success. Secondly, ensure that data is accurate and up-to-date by using reliable sources such as Google Ads, Bing Ads, and other third-party platforms. Thirdly, use automated reporting tools such as Google Data Studio to generate custom dashboards in order to visualize your data and make informed decisions. Finally, set up cross-channel reporting and data blending so you can better understand the full picture of your campaigns. By following these best practices when utilizing a PPC dashboard, marketing agencies can ensure they are making the most of their campaigns and achieving the best results possible.
How to Read Google PPC Dashboard?
Reading a Google PPC dashboard can be overwhelming if you're not familiar with the different metrics and data points that are displayed. Here are some tips on how to read and interpret the data in your Google PPC dashboard:
Focus on the main performance metrics

: The most important metrics to track in your PPC dashboard are impressions, clicks, CTR, CPC, and conversions. These metrics will give you an overall view of how your campaigns are performing and where you may need to make adjustments.

Look for trends over time: Pay attention to how metrics are changing over time. Are clicks and impressions increasing or decreasing? Is your CTR improving? Understanding these trends will help you identify areas where you can optimize your campaigns.
Analyze campaign and ad group performance: Your PPC dashboard will show you the performance of each campaign and ad group. Look for campaigns and ad groups that are performing well and those that need improvement.
Pay attention to keyword performance: Your dashboard will also show you how each

type of keyword

is performing. Look for high-performing keywords that you can allocate more budget to and low-performing keywords that you may need to pause or optimize.

Monitor your budget and spending: Keep an eye on your spending to ensure that you're not exceeding your budget. You can also adjust your bids and budgets in real-time to maximize your ROI.
Use data to make informed decisions: The data in your PPC dashboard should guide your decision-making process. Use the insights you gain to make informed decisions about how to optimize your campaigns for better results.
Overall, the key to reading a Google PPC dashboard is to focus on the Google Ads metrics that matter most to your business goals, analyze trends over time, and use the data to make informed decisions about how to optimize your campaigns for better performance.
Conclusion
Conclusion. With the right PPC dashboards in place, businesses can quickly and easily analyze their marketing performance and make meaningful decisions. Not only can PPC dashboards provide insights into campaigns, but they can also help with budget tracking, long-term trend analysis, and performance comparison. PPC dashboards provide an efficient way to access up-to-date data from multiple sources in one place to make data-driven decisions in real-time. Furthermore, implementing a PPC dashboard template can help companies cut down on the time it takes to create custom reports for clients. By leveraging the power of PPC dashboards, companies can stay ahead of the competition and maximize their ROI.
---