Google Ads allow you to add callout text to your ad in order to highlight important features or benefits of your product or service. This can be an effective way to grab attention and improve your click-through rate. To add callout text, simply create a new Google Ads campaign and go to the "Ad Extensions" tab. Before this step, you can check "What Are Google Ads Extensions" first. From there, you can add up to four callout texts per ad. Make sure to include relevant keywords and phrases in your callouts so that they are more likely to be shown to potential customers who are searching for those terms.
You can view all your extensions and make changes in the asset section at the campaign level.

Google recommends that advertisers use callout extensions to draw attention to the unique selling points, key details, and benefits of the product and service a business is marketing and advertising. As with other ad extensions, there is a google ads character limit in callout texts. Ads can have up to 4 callouts, each limited to 25 characters, and require at least 2 callouts to display. By adding callouts at the account, campaign, or ad group level, it allows you to use account-level or campaign-level general information and custom callouts for each ad group. 
You will learn 2 main issues about Callout Text in this article:
Why Use Callout Text

10 Ideas for Callout Text
Why Use Callout Text
Using Callout texts in an ad offers many advantages to advertisers. First of all, using extensions increases the click-through rate and performance of your ads. At no extra cost, callout texts give the business the opportunity to stand out in search results with certain messages.
Using extensions is an ad rank calculation factor and can allow it to rank at the top of the Google Search Results Pages (SERPs). This way you can promote a popular product or a selling point.
Google offers customized additional information optimized for mobile devices, and you can change your messages to reflect this or disable the display on certain devices.
A small detail on how your ad will look on mobile devices. Your callout texts come right after the descriptions.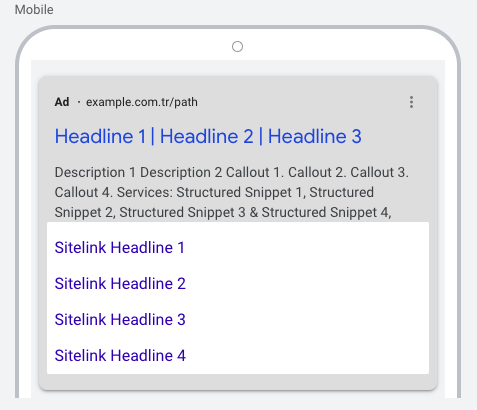 Dates, days of the week and time of day can be selected to display callouts with ads. Google offers the opportunity to compare the number of clicks when the callouts are displayed or the summary performance analysis at the account, ad campaign, and ad group level. It also provides the ability to edit callouts without resetting performance statistics. With advanced notification of campaigns, you can follow the progress of the campaigns regularly and take quick action.
10 Ideas for Callout Text in Google Ads
Offer free shipping or a discount to encourage

click

s

Mention a sale or special promotion

Highlight key features, major elements or benefits of your product or service

Include customer testimonials or reviews

Offer a free trial or sample

Provide a money-back guarantee

Mention awards or accolades your company has received

List accepted payment methods

Include your company's contact information

Use keywords and phrases that potential customers are likely to search for
In conclusion, callout text in Google Ads can be an effective way to improve your click-through rate and ROI. To maximize the impact of your callouts, make sure to include relevant keywords, highlight important features or benefits, and use strong calls to action.
How Does Adsbot Help You?
Adsbot helps you automate and optimize your campaigns in a minute. Get insights, alerts and smart recommendations with a single click. You will have full control on your account and focus on strategy. Start you free trial today and see Adsbot in action.
---